Railcar Unloader/Conveyor/Elevator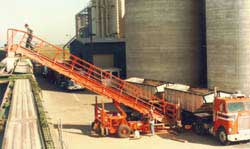 Compton's Railcar Unloader/Conveyor/Elevator provides features that will greatly expand an operation's flexibility, increase productivity and enhance profit making. Companies that need to move products fast, such as, grain, corn, soy beans, feed meal, fertilizer, ash, coal, rock, palletized iron ore, aggregates, cubes, nuts, and woodchips can have increased efficiency immediately.

Features:
4" High Drive-Over Pan
Detachable Ramps
Diesel or Electric Power
Portable /Self-Propelled
Side-Drives
Self-Leveling
Variable Height Discharge
Hydraulic Adjustable Hood
Highway Towing
Removable Towing Hitch
Lights
Cold Start Package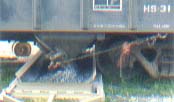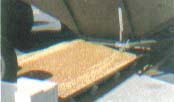 Compton Railcar Elevators are manufactured in four belt widths: 20, 30, 40, and 60 inch.
Material Transfer Capacity will vary between 8,000 and 30,000 bushels per hour or 150 to 1,500 tons per hour depending upon the elevator model and the product being handled.

A durable four inch, low profile Drive-Over-Pit with detachable towing hitch, drive over ramps and hopper make these elevators perfect for Under-Rail and Over-Rail applications. The two twelve inch doors rise to create a hopper.

Self-Propelled: The two main drive wheels are controlled independently. This allows movement in forward, reverse, at angles, and for pivoting in circles.

Side Travel: Four stanchions with wheels lift the elevator's pan section and main drive wheels off the ground to permit side travel from hopper to hopper on railcars or tightly spaced indoors.

Self-Leveling: Adjustable rear axle accommodates use with varying rail bed heights or on irregular terrain by maintaining the elevator's pan section in a horizontal position.

Variable Height Discharge: This elevator is capable of discharging material from a minimum of 10 ft. to a maximum of 20 ft.

Optional Hydraulic Hood: Allows for adjustment of material throw from the elevator.